Microphones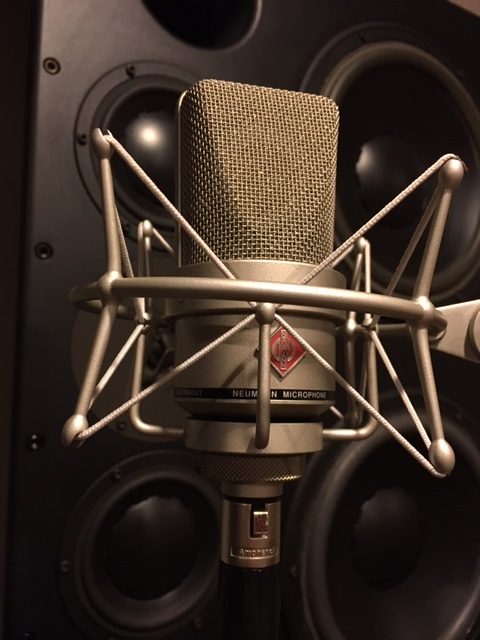 Large Diaphrams
Neumann TLM 103
Neumann TLM 102
Shure KSM44 (2)
Peluso 22 47 SE tube
Rode NTK tube (2)
Audix SCX25A (2)
AT 4040
AT 3035 (2)
Ribbon
Royer R-121 (pair)
sE R-1
Cascade Fathead (2)
Small Diaphrams
Neumann KMS 105
Neumann KM 184 (pair)
AKG C451 (2)
Shure SM81
AT 4041
Broadcast & Dynamic
Shure SM7B (2)
EV RE20 (2)
Sennheiser MD421-II (3)
AKG D112 MkII
Shure Beta 52A
Shure Beta 58A
sE V7
Shure SM57 (3)
Outboard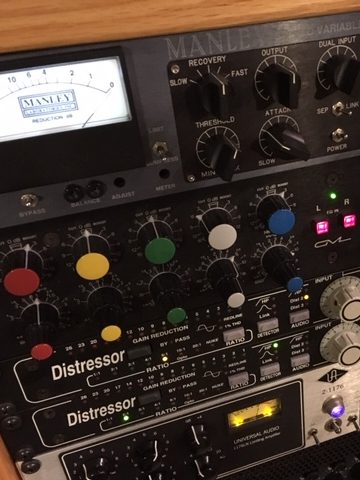 Preamps
UA LA-610 MkII tube
Rupert Neve 511 (4)
Rupert Neve 517
API 512 (4)
SSL VHD-Pre (4)
Millennia Media HV-35P
Chandler Limited Little Devil
Compressors
Valve
Manley Variable Mu (pair)
Optical
Urei LA-4 vintage (pair)
UA LA-2A-style
FET
UA 1176 (pair)
VCA
SSL G Comp
Empirical Labs Distressor EL8-XS (pair)
DBX 165 vintage
DBX 1066 dual (2)
Musical Inspiration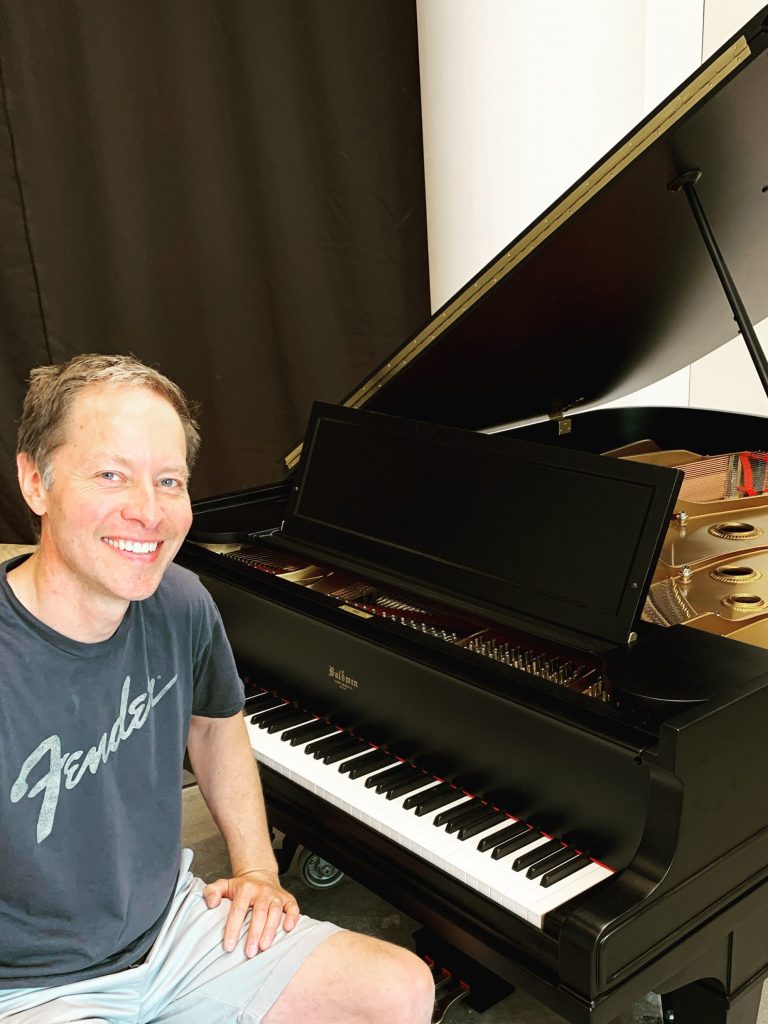 1922 Baldwin model C 6'2″ grand piano, restored by Mussig Piano Works (Quentin not included)
1956 Hammond C3 organ with pedals
Leslie 122 tube amplifier with guitar interface
Vintage Ensoniq ESQ-1 synthesizer
Fender Princeton Recording amp with built-in power soak
Ampeg PF-50T tube head with 15″ PF-115HE bass cabinet
5-piece Gretsch drum kit with virgin shells, DW hardware and Dream cymbals
The Rig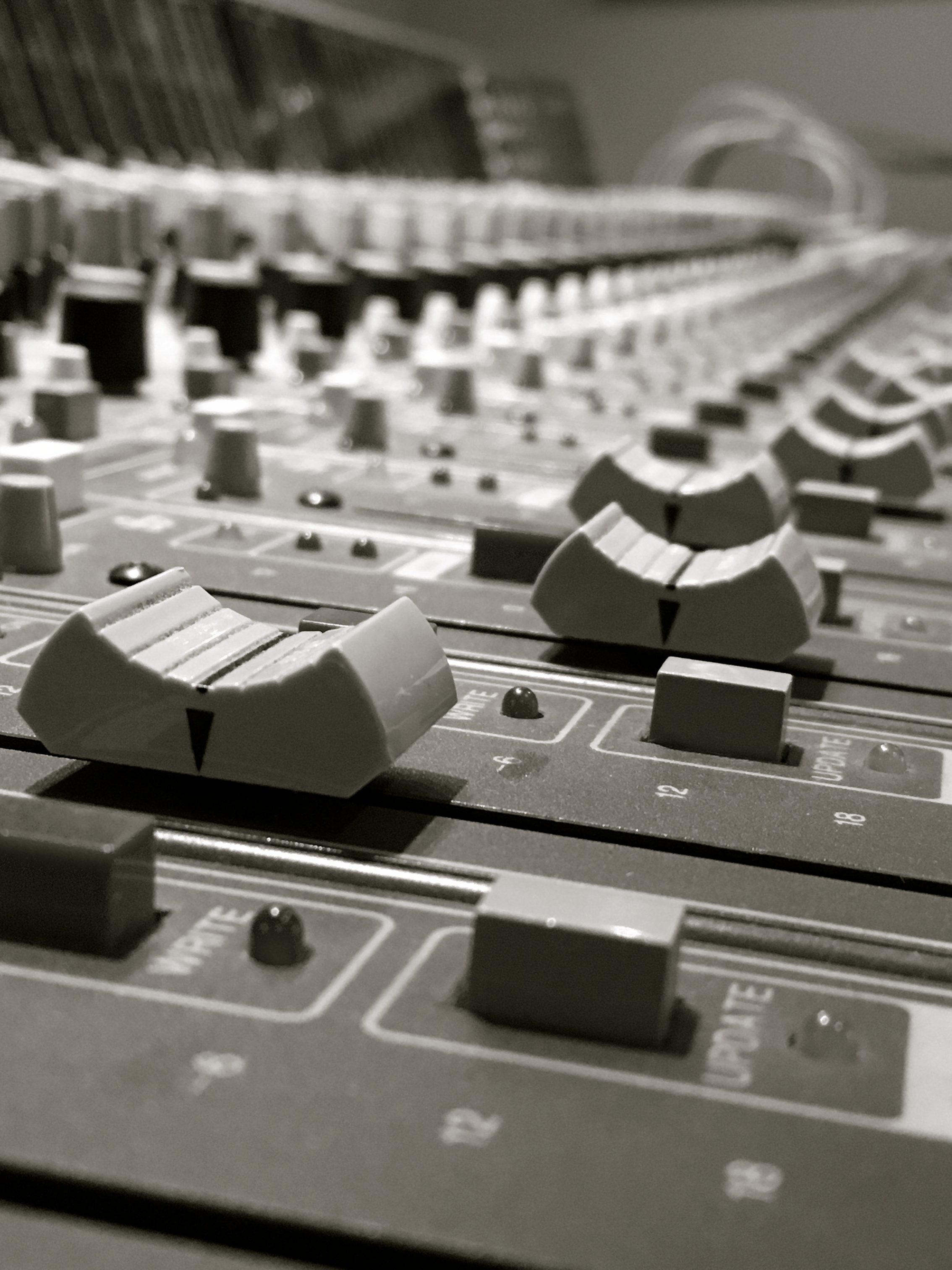 Sound Workshop Series 34 analog desk, 40 channels
Apogee Symphony I/O MkII A/D, 32×32
Avid Pro Tools
Steinberg Wavelab Pro
UAD & Waves plug-ins
Antares Auto-Tune & AVOX Suite
Apple Mac Pro
Hearback 8-channel personal monitor mixers
Bryston 4B SST2 amp, 500W x2
Dynaudio M3 mains
Transparent Audio interconnects
Kimber Kable cabling
Torus Power conditioning
Control Room Design
The control room forms an integrated environment optimized for mixing and mastering. Its design started with dimensions which minimize room modes, then leveraged the latest studio acoustics analysis by Philip Newell. The front features flush-mounted Dynaudio M3 mains suspended in a 2,400-lb stone wall, promoting an infinite baffle and boosting bass performance without stressing the woofers. The ceiling and rear walls absorb the full spectrum of highs through lows using a system of Rockwool batts, deadsheet membranes and suspended panel absorbers. This setup creates a wider "sweet spot" than typically possible with nearfield bookshelves for fine-tuning stereo depth and transparency.
Soundproofing between rooms is maintained with floating steel-stud walls and double-layer gypsum mounted to RSIC clip isolators. Special thanks to Gary Manuel at Mirror Image Studio, Don Krasen at Krystal Clear Audio-Video and Jeff Newell of Newell Construction for their practical materials and construction expertise!
Anchoring the control room is the early-80's analog console formerly owned by Gary Loizzo, Grammy-nominated engineer for Styx. So Come Sail Away at Waveform Music – we'll have The Best Of Times!